WORK BETTER. FROM WHEREVER.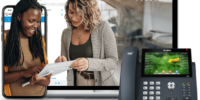 Wherever work takes you, a better way to communicate needs to come, too. With Alliance Voice Solutions, a full office communications suite goes wherever you go.
Phone | Video | Chat
Contact Center | Files | Email
With the right communications platform, you can now
If your business or organization is like most, you and your team had to quickly transition from a traditional office space to a work from wherever environment. With this have come new learnings, new opportunities, and, unfortunately, new frustrations.
You may have heard of work from home fatigue? Well now, you can find practical tips and advice and you can start implementing today to help counter it, and realize a more positive, engaged, and refreshed workforce as a result.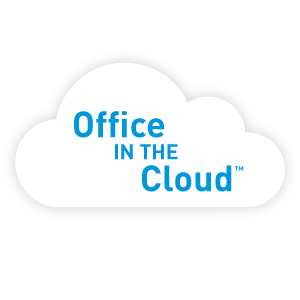 Set your business up for long-term success with the all-in-one communications platform that goes wherever you go.
A multi-platform customer spotlight series honoring business leaders whose vision and drive are redefining the customer experience.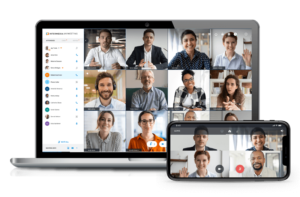 Video Conferencing Features
Built in collaboration tools make it easy for participants to share content for more interactive and productive meetings in real-time.
Benefits of Video Conferencing
Powerful video conferencing solution for businesses of all sizes
Maintain productivity with HD video, screen sharing, powerful collaboration features and artificial intelligence capabilities on both mobile and desktop devices.
Meet Anywhere
Host and join meetings wherever you go with Alliance Voice Solutions desktop and mobile apps solutions.
var _rakuten_automate = { accountKey: "cc0384925dcce808740c1b12dd4ba1125896053a9b4367c5c2c29aaba4968c61", u1: "", snippetURL: "https://automate-frontend.linksynergy.com/minified_logic.js", automateURL: "https://automate.linksynergy.com", widgetKey: "ihs36sbca5ezM0VlqXEnMz0OXSKHURTB", aelJS: null, useDefaultAEL: false, loaded: false, events: [] };var ael=window.addEventListener;window.addEventListener=function(a,b,c,d){"click"!==a&&_rakuten_automate.useDefaultAEL?ael(a,b,c):_rakuten_automate.events.push({type:a,handler:b,capture:c,rakuten:d})};_rakuten_automate.links={};var httpRequest=new XMLHttpRequest;httpRequest.open("GET",_rakuten_automate.snippetURL,!0);httpRequest.timeout=5E3;httpRequest.ontimeout=function(){if(!_rakuten_automate.loaded){for(i=0;i<_rakuten_automate.events.length;i++){var a=_rakuten_automate.events[i];ael(a.type,a.handler,a.capture)}_rakuten_automate.useDefaultAEL=!0}};httpRequest.onreadystatechange=function(){httpRequest.readyState===XMLHttpRequest.DONE&&200===httpRequest.status&&(eval(httpRequest.responseText),_rakuten_automate.run(ael))};httpRequest.send(null);
Work Better with Speak Technology Solutions
CONNECT WITH US
Phone: 877-829-9114
Fax: 650-396-4200
Email: info@alliancevoicesolutions.com