DRAGON MEDICAL PRACTICE EDITION 4 UPGRADE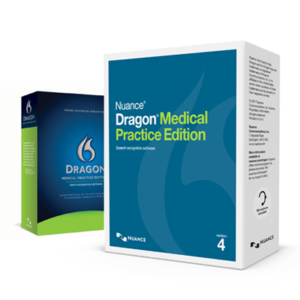 Upgrade to the latest Dragon Speech Recognition for Physicians. Available via immediate download. With this upgrade, you will receive new technology unlike any Dragon software engine you have ever used. New AI based speech recognition uses less power and is more accurate than all previous versions. Includes Immediate download and use right after purchase (within the hour)
* Remote installation (should you choose)
*Free access to online training guide and resources
*Free lifetime technical support
Our DMPE-4 Full product page has all the specific details on this latest software. However, here, we are going to address what's new and how it will improve your current system.
So, what's new in version 4 of Practice Edition?
1. SPECIAL OFFER – This upgrade is available for users of Dragon Medical Practice Edition v2. However, if you have Dragon Medical Practice Edition 1, you can get the full version at upgrade pricing. This offer expires 3/31/2018. After this date, all users of Dragon Medical Practice Edition v1 will have to pay full price of $1599. This upgrade will work based on your current serial number. Act today!
2. NEW SPEECH ENGINE! DMPE4 uses a new engine which relies in Deep Learning which basically uses different algorithms to come up with the proper dictation of a word. See our Blog post on "Dragon Medical Deep Learning Technology"
3. NO MORE INITIAL TRAINING! Initial training is a thing of the past. So are having to choose your accent. Within the first 10 seconds of speech, DMPE-4 will automatically sense your accent and apply the correct accented vocabulary to your dictation. This is a great feature! Many times in customer installations, we are unsure of which accent to choose for a Physician. Sometimes, someone may have a southern accent but the accent is not enough to warrant a southern based speech recognition profile. In some cases, there is no accented profile for some let's say from the middle-east or Europe and many times we are hit and miss on this. This will no longer be necessary as Dragon well sense and apply on the fly.
4. LESS PROCESSING POWER NEEDED! The all new system will actually require less horsepower. In the past, multiple processors were used in order to achieve the highest performance. However, now, only one processor is used which will allow your other applications and Windows to use the other processors resulting in faster performance.
5. MICROPHONE AUTO GAIN CONTROL. This is also a great feature. Many times, individuals will not dictate at the exact position. You may be 1 inch away from the microphone and next dictation you may be 3 inches away. You may have to turn a page from one of your charts while you are dictating and once again change where the microphone is in proximity of your mouth. The automatic gain control will help with this giving you better accuracy as your environment or posture changes.
6. 14%+ INCREASE IN ACCURACY for most users. This is a tough subject since individuals receive varying percentages of accuracy. While we can state DMPE-4 is 14% more accurate, some individuals will receive more accuracy due to many factors. Engine performance, processor performance, automatic sensing accent, automatic microphone gain control (increasing and decreasing automatically as volume changes).
7. SUPPORT FOR THE LATEST WEB BROWSERS. This means you will be able to dictate in to more boxes than before. This is especially important for web based EHRs. Furthermore, full support for Google Chrome is now available.
Dragon Medical Practice Edition 4 System Requirements
RAM: Minimum 4 GB
CPU: Intel® dual core or equivalent AMD processor. Faster processors yield faster performance
Free hard disk space: 4GB (8GB download)
Supported Operating Systems:
Windows 7, 8.1, 10 (32- and 64-bit); Windows Server 2008 R2 & 2012 R2 & 2016
Internet Explorer 11 or higher or the current version of Chrome or Firefox
A sound card supporting 16-bit recording
Built-in microphone or a Nuance-approved microphone.
See support.nuance.com/compatibility for more information
An Internet connection to activate user license using provided login and password and access to Online Help
$599.99