Description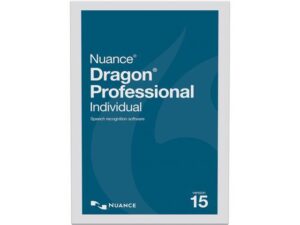 Dragon® Professional Individual
Put your voice to work to create reports, emails, forms and more with Dragon Professional Individual, v15. With a next-generation speech engine leveraging Deep Learning technology, dictate and transcribe faster and more accurately than ever before, and spend less time on documentation.
Ability to seamlessly sync with the Dragon Anywhere mobile dictation solution (Dragon Anywhere, Nuance's mobile dictation solution, is sold separately)
Advanced formatting voice commands
Powerful transcription capabilities
Support for Windows 10 touchscreen PCs
Added application support for WordPerfect X8 and Skype for Business
Many more innovative features
See how to put Dragon Pro Individual to work for you
With over 2,000 voice and language scientists dedicated to innovating and developing new features, Dragon introduces "Deep Learning" technology and adaptation techniques that continuously adjust to your voice even if you have an accent or if you're in an environment where there are slight background noises.
Use your voice to dictate documents
Dragon not only lets you dictate up to three times faster than typing, but it also allows you to make edits and apply formatting using your voice with up to 99% accuracy. You can select text and apply formatting such as bold, underline, capitals and more, or just speak to make needed changes. Smart Format Rules automatically adapt to how you want abbreviations, dates, phone numbers, and more to appear, so you don't have to correct them every time.
Transcribe your recordings from audio files
Dragon supports Nuance-approved digital voice recorders and smart phones for advanced recording functionality and can automatically transcribe the audio files to text back at your PC. It leverages all the accuracy improvements gained from the state-of-the-art speech recognition engine for fewer post-corrections.
Try the Dragon Anywhere  free trial